social flavour
THinking globally, acting locally
With cooks from five continents, The Good Food Project brings the best of world cuisine with a social flavour.
Our parent company, Nundah Community Enterprises Cooperative (NCEC) is a long-standing and highly regarded social enterprise. NCEC has traditionally supported people with intellectual disabilities and/or mental health issues to maintain meaningful employment through our Espresso Train Cafe and Catering as well as the Parks and Maintenance Crew.
In 2015, we were approached by a group of asylum seekers who were experiencing significant barriers in accessing employment and wanted to start their own businesses. From this beginning, the word spread, and The Good Food Project was born in 2016. Our first major success was the crowdfunding of Australia's first social enterprise food trailer. From there, we've developed a catering arm, cooking classes, sell our world food products, as well as providing hospitality training and refugee-led small business start-up support.
We derive 100% of our income through trade, which we're very proud of. Having financial freedom allows us to organically develop our business into a collaborative and fluid model, with a flow on effect of increasing independence and autonomy in our staff.
We are staffed entirely by people with disadvantages - some have disabilities, mental health issues, and many have arrived in Australia as refugees. Our common ground is that we, aside from being amazing cooks, want to belong, to contribute, to work and be a part of our community. Thanks for helping us achieve this goal.
CONTACT
0403 233 398
hello@thegoodfoodproject.net
Location
c/o Espresso Train Café
46 Station Street
Nundah Qld 4012
Hours
By appointment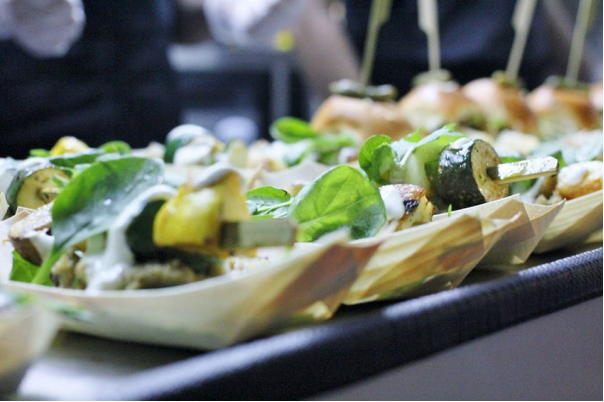 We provide private event catering for weddings, conferences and functions
Banquet Menu
Minimum spend of $1000
Presented on your tables or ours, on single use eco-friendly serving ware, or metal and ceramic serving ware, with all utensils required for service. We set up, serve, and pack away your banquet. This is a gorgeous option for weddings or other larger events. If banquet option three is chosen, we will also include staff to provide a roving canape service for up to one hour.

Banquet Option One $35 per head
Fresh bread selection with butter
Two proteins
Two hot sides
Three cold sides
Includes single use eco-friendly plates, recycled paper napkins and single use wooden cutlery. Upgrade to china plates, stainless steel cutlery and cloth napkins for $3 per head.

Banquet Option Two $45 per head
Fresh bread selection with butter
Two proteins
Two hot sides
Three cold sides
Two desserts
Includes single use eco-friendly plates, recycled paper napkins and single use wooden cutlery. Upgrade to china plates, stainless steel cutlery and cloth napkins for $3 per head.
Banquet Option Three $55 per head
Your choice of four canapes per person
Fresh bread selection with butter
Two proteins
Two hot sides
Three cold sides
Two desserts
Includes single use eco-friendly plates, recycled paper napkins and single use wooden cutlery. Upgrade to china plates, stainless steel cutlery and cloth napkins for $3 per head.

Proteins – choose up to two
Rosemary roast lamb with mint sauce and gravy (GF without gravy)
Syrian spiced chicken (GF)
Garlic roast chicken with stuffing and gravy
Feta stuffed roast onions with walnuts and thyme (V)
Vegan nut and mushroom loaf with tomato gravy (VV)
Mildly spiced beef/lamb or vegetarian madras (VR)
 
Hot Sides – choose up to two
Rosemary and garlic roast potatoes (VV)
Mejadra salad with spiced lentils, rice and crispy fried onion (VV) (GF)
Honey-glazed carrots (V) (GF)
Minted peas
Roasted seasonal root vegetables
Green beans with slivered almonds and butter sauce
Jasmine rice with spring onions and toasted coconut

Cold sides – choose up to three
Feta, roast pumpkin and chickpea salad with rocket and vinaigrette
Seasonal garden salad with mustard vinaigrette
German sauerkraut with toasted walnuts
Four bean salad with herbed yoghurt dressing
Green apple, cabbage and carrot slaw
Vine-ripened tomato, mozzarella and basil with balsamic glaze
Moroccan couscous with chickpeas, seven spices and raisins
Indian rice salad with almonds and currants
Citrus and avocado salad with pepitas
Greek salad with feta, Kalamata olives, oregano and balsamic dressing
Potato salad with red onion, parsley and Dijon mustard dressing
Canapes
Available as part of banquet option three, and also individually at $3 each, with a minimum quantity of 20 of each canape.
Mini camembert, red onion and bacon quiche
Mini spinach and feta quiche
Greek lamb koftas with tzatziki
Felafel balls with hommus
Steamed Chinese chicken or vegetarian dumplings with chilli-soy dipping sauce
Thai fish cakes with herb salad and Thai dipping sauce
Mini corn fritters with crème fraiche and smoked salmon
Vegetable samosas with fruit chutney
Pork and vegetable spring rolls with sweet chilli dipping sauce
Desserts
Mini banoffee pies
Individual cheesecakes with cream and fruit coulis
Berry tartlets with crème patissiere filling
Walnut brownie with chocolate fudge
Vanilla bean pavlovas with cream and seasonal fruit
Three cheese platter with fresh and dried fruit and crackers
Dietary Guidelines
GF- gluten free
V- vegetarian
VV- vegan
R- upon request
All vegetarian, beef, lamb and chicken dishes can be made Halal upon request. Charges apply.
We are a planning a range of teas, specialty ingredients and spice mixes prepared by our staff, including garam masala, baharat spice mix, dukkah and chai tea. These will be available pre-packaged as gorgeous gifts, or sold by weight in Vessel Nundah, a fabulous zero-waste store for body and home products. Coming in October. Please visit www.vesselnundah.com.au for more information.
FAQ
General Info
How do I book an event?
Call or email us at 0403 233 398 (Jess) or hello@thegoodfoodproject.net so we can discuss your requirements and send a quote
Is there a minimum spend?
Generally, $700/50 pax for hire of the trailer. Catering starts from $200
Do you require a deposit?
For orders above $1000, we require a 25% deposit at time of booking, payable by credit card or bank transfer
How many people can you cater for?
Anywhere from one to one thousand
I am gluten-free/vegan/paleo/only eat white foods etc. Can you feed me?
Yes. We have vegetarian options as standard. If you have specific dietary requirements, we will always do our best to accommodate
Cooking Classes
What cuisines are on offer?
Currently, we are running Egyptian, Sri Lankan, Syrian and South Sudanese classes, suitable for all skill levels. We also have staff from Armenia, Iraq, Iran and Bhutan who are available to teach private classes
How does it work?
These 2.5 hour interactive experiences are led by experienced cooks hailing from the country whose cuisine you'll be preparing. Please see 'Us' tab for more info on your trainers. Classes are $90/$45 for under 12s and includes a shared meal, drinks, and take home goodies including a Good Food Project apron. Private classes are also available for booking, for team building, parties, etc., with a minimum of six adults per class. A reduced cost per participant is available for parties over eight. We are able to arrange private classes most evenings or Saturday lunchtime
How do I book in?
Please go to trybooking.com/eventlist/goodfoodproject for upcoming classes. For private classes, please call or email 0403 233 398/hello@thegoodfoodproject.net
Food Trailer
What does The Good Food Trailer look like?
It's cute – fresh, white and clean with minimal black and white signage, so it can sit nicely within event theming or can be dressed up with colourful bunting and decorations depending on what you're after
Can you do coffee/drinks/alcohol?
Yes, we have a full-sized industrial coffee machine, and can do a range of hot and cold drinks. Our staff have Responsible Service of Alcohol certifications, so we can also serve alcohol.
Do you cook onsite?
We cook the vast majority of our food on site in the trailer. For additional prep work, we use our sister business' Espresso Train Café's licenced commercial kitchen premises at Nundah
What kind of site and facilities do you need access to?
We require a reasonably flat surface with vehicle access on which to park up on your private land. We are not able to park up and serve on public roads without an individual site permit, which is difficult (but not impossible) to acquire; please contact us if this is something you'd like more information about
We also require a site that is within 25 metres of power; 15amp or regular household 10amp points are fine. We are in the process of funding for a generator, but for now we require mains power to operate
What permits do you have?
All the necessary ones: a Brisbane City Council Mobile Food Business Licence, Product and Public Liability Insurance and comprehensive insurance on our trailer and towing van. Our trailer contains a fully licenced commercial kitchen
How long do you need to set up?
Approximately one hour, depending on the cuisine and number of guests. We will advise you prior to the event what time we would like to be able to access the site. We require approximately 30 minutes to pack down at the end of the event
What happens if it rains?
We soldier on. We are able to operate in bad weather as long as the site isn't grass and there isn't a risk of bogging (we've been burned before!), or can provide an indoor catering service in accordance with your wet weather plan